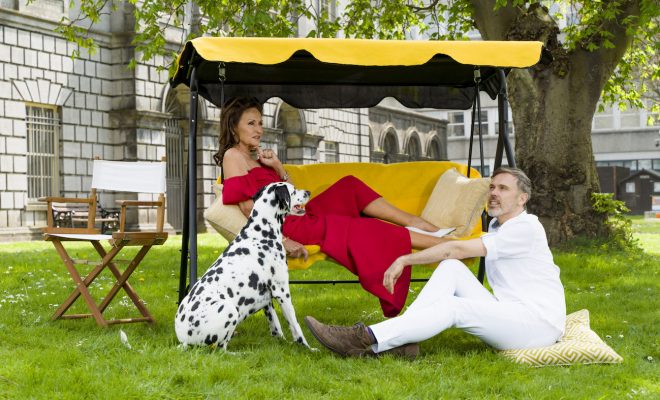 Uncategorized
Vangoyourself this Summer at the Lavery and Osborne Exhibition at the Hunt Museum, Limerick
By
|
Celia Holman Lee and Richard Lynch taking part in VanGo Yourself promo shoot at The Hunt Museum, Limerick. Picture: Don Moloney.
Vangoyourself this Summer at the Lavery and Osborne Exhibition
at the Hunt Museum, Limerick
Opening June 1 is a new Irish exhibition 'Lavery and Osborne: Observing life' at the Hunt Museum, Limerick, featuring Irish artists, Sir John Lavery and Walter Frederick Osborne. Both born in the mid-nineteenth century, these renowned artists lived parallel lives as Irish painters who travelled overseas to develop their artistic talent. Placing them side by side, without other artists for the first time is also a reflection of their lives. It is said that they never met, but both were offered knighthoods and both were subject to the same artistic influences including that of James McNeill Whistler.
A total of sixty-two pieces are to be exhibited. The majority are from private collections travelling from the United Kingdom and the United States, with a few from other Irish galleries including the Crawford Art Gallery, Ulster Museum, and Limerick City Gallery of Art.
Tired of just looking at paintings in art galleries or museums …? Vangoyourself allows visitors to discover and enjoy art in a whole new way …Visitors to the Exhibition can re-enact the painting for themselves. They can become the painting using their own visually creative take on the artist's work. People visiting the exhibition can recreate an Osborne or Lavery painting, by taking a snap of their version of the painting, uploading it to VanGoYourself, which twins their image with the original artwork for sharing on social media, immortalising their artistic talent for all to see!
'Lavery and Osborne: Observing Life' at the Hunt Museum Limerick takes place from
Saturday, 1st June and continues throughout the summer until 30 September. Tickets can be purchased at huntmuseum.com/event/lavery-osborne/
About the artists
Walter Frederick Osborne RHA (1859 to 1903)
Walter Osborne was born at the family home at Castlewood Avenue in Rathmines. His father, William, made a reasonable living as a specialist painter of animals, becoming a member of the Royal Hibernian Academy in 1868. Following in his father's footsteps, Walter enrolled in the Royal Hibernian School in 1876. Over the following five years of academic tutelage he showed great aptitude as an artist; winning many prizes including the prestigious Taylor Prize of £10 in 1879, for A View from Templeogue Bridge, Dublin and again in 1881 winning £50 which enabled him to enrol in the Academie Royale des Beaux-Arts, Antwerp.
While in Belgium Osborne became acquainted with plein-air painters from England and began to record landscapes, figures and scenes from ordinary life. Osborne decamped to Brittany to capture the landscapes, costumes and customs of the traditional Breton way of life.
Moving to England in 1884, he continued to paint the countryside of the well-cultivated area of the Home Counties and flatland of Suffolk together with everyday scenes of both urban and rural life. He often depicted a particularly silvery grey quality of light, painting many scenes en plein-air.
Throughout his time living and working abroad, Osborne returned to Ireland regularly. He exhibited at the RHA each year from his early days at art school to the year of his death and exhibited regularly at the progressive New England Art Club. He travelled around Ireland painting street scenes and landscapes in Dublin City and county, but also in counties Galway and Limerick. A major shift can be seen in Osborne's technique in the mid-1880s resulting from the influence of the work of James Abbot McNeill Whistler.
Following his sister Violet's death in 1892, her young daughter Violet Stockley was sent to live with her ageing grandparents. Walter, who remained unmarried throughout his life, was once again living in the family home in Rathmines and began to turn increasingly to commissioned portraiture to help relieve his parents' of any financial pressure.
Osborne was by all accounts an affable and sociable person, active as a cyclist and cricketer. He continued to play an important role in the Dublin art world, running exhibitions, judging awards, verifying attributions and teaching. One of his most significant pupils, William Leech, said of him that "He taught me all I needed to know about painting." In 1886 Osborne helped to found the Dublin Arts Club to encourage the exhibition of more modern styles of painting. In the same year, he was elected as a full member of the Royal Hibernian Academy. In 1900 he declined to accept a knighthood in recognition of his service to the arts.
Following Walter Osborne's tragically early death from pneumonia in 1903 at the age of 43, the RHA held an exhibition in his honour including 269 of his works. Many art critics and historians have suggested that at the time of his death Osborne was on the brink of his full maturity as an artist, having successfully fused naturalistic precision with the spirit of impressionism.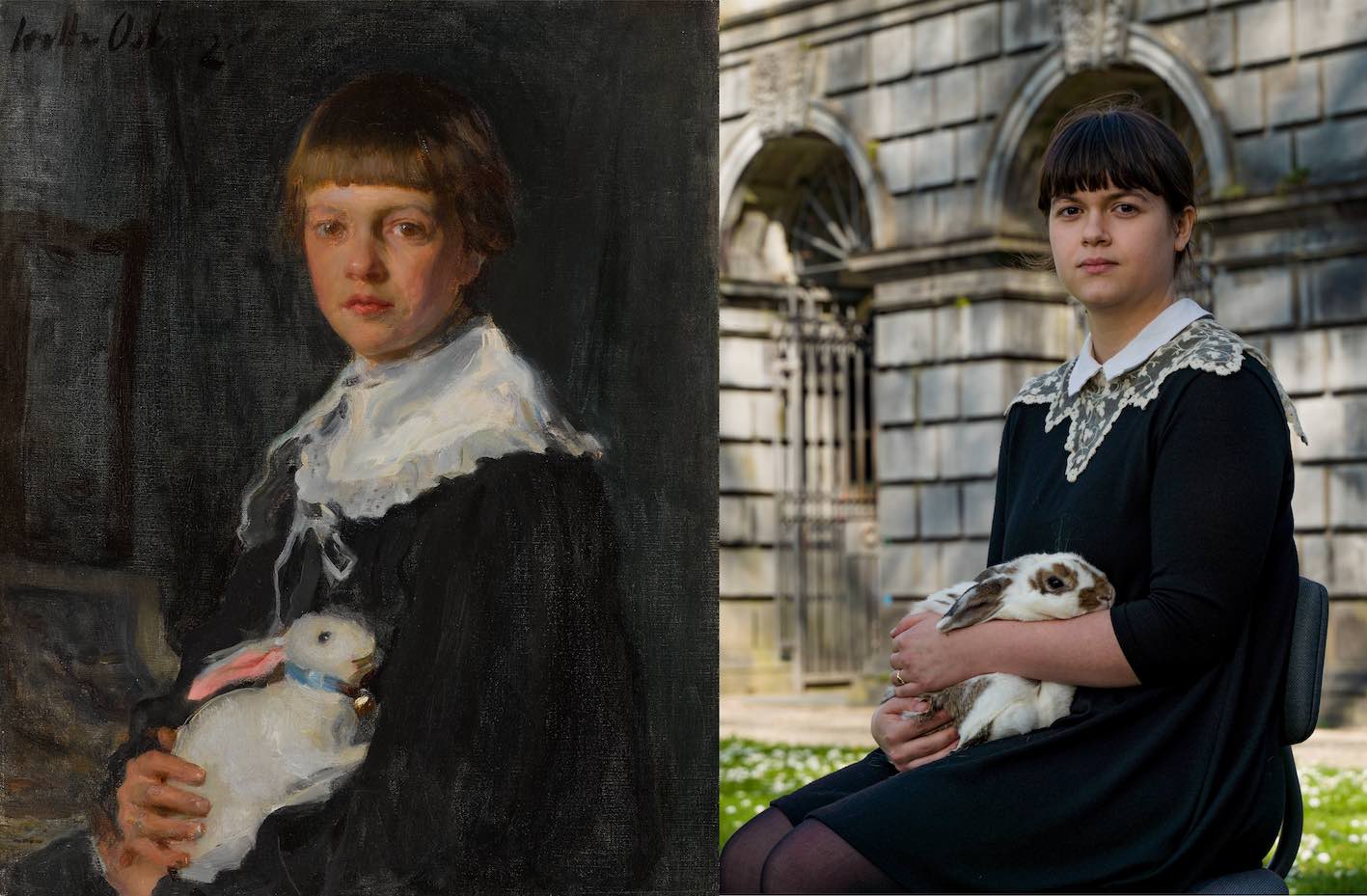 Sir John Lavery RA, RSA, RHA (1856 – 1941)
Sir John Lavery was born on March 20th, 1856, at 47 North Queen St. Belfast, one of four children of Catholic parents. Both his father and mother died in 1859, leaving the children orphaned. After a period spent on his uncle's farm in County Down, and education at the local school, via work at the shop of a relative in Glasgow, he was apprenticed as a teenager for a Glasgow 'photographic and portrait painter'. 1874 saw him enrol at Glasgow's Haldane Academy of Art, his intention, even at this early stage, being to become a portrait painter.
His early successes culminated in a work being accepted for exhibition by the Glasgow Institute of the Fine Arts in 1879. In that same year, he was able to open his first studio. He subsequently moved to Paris and to the prestigious Academié Julian. In 1884, he spent time with the artists' colony at Grez-Sur-Loing, where he became acquainted with the group of 'plein air' painters, including the Irish artist Frank O' Meara. He returned to Glasgow, becoming affiliated to the 'Glasgow school', a group of progressive artists influenced by contemporary French styles
In 1890, he married Kathleen McDermott and a daughter, Eileen, was born the same year. Sadly within a year, Kathleen died. Subsequently, he began to exhibit extensively and his reputation at home and abroad grew steadily. He visited Morocco for the first time in 1890 (he was to purchase a house outside Tangier in 1904, which was his winter home until 1920), and his first one man show at the Goupil Gallery, London in 1891 consisted largely of Moroccan material.
In 1910 he married Hazel Trudeau (daughter of a Chicago industrialist), who became a prominent society figure, as well as being an artist in her own right. His artistic practice continued to thrive, helped by his commission to paint the British Royal Family in 1913. In 1917, he was commissioned as an official war artist, producing an impressive body of work ("totally uninspired and dull as dishwater", was his opinion), and in 1918 he received a Knighthood. He never forgot his Irish background and his links to Ireland increased during the 1920s when he painted portraits of several members of the Free State Government, and in 1935 he was granted the Freedom of the City of Dublin.
In 1935, both Hazel Lavery and his daughter Eileen died. Lavery continued to work every day, and prestigious commissions and awards were offered. He also continued to travel, spending 2 weeks in Hollywood in 1936, painting portraits of some of the 'stars'. In 1940 he went to live with his step-daughter in Co. Kilkenny where he died on January 10th, 1941.
More about VanGoYourself
VanGoYourself is a Europeana project which was co-founded by the European Commission to enable and promote the greater re-use by creative industries of cultural heritage resources.
VanGoYourself is an award-winning site where people recreate classic scenes from some of the world's most famous paintings to share with their friends and engage others with art. The site includes Masters such as Leonardo da Vinci, Van Gogh and Rembrandt with paintings from more than 34 venues in 15 countries all just waiting to be recreated!
About the Hunt Museum
The Hunt Museum preserves and exhibits the original artefacts gathered, over a lifetime, by John and Gertrude Hunt. It is one of the greatest private collections in Ireland, with objects dating from the Neolithic Period to the 20th century. Generously donated by John and Gertrude Hunt to the people of Ireland, this diverse collection is now housed in Limerick's 18th Century Palladian-style building, formerly The Custom House.
The Museum also displays its own collections, as well as visiting exhibitions of Local, National and International significance with the overall aim of maximising their cultural and educational potential for the people of Limerick and Ireland. It has an extensive education programme covering primary, post-primary, transition year and tertiary education in the region. Working collaboratively with the regions universities, cultural heritage organisations and the local communities the Hunt Museum delivers programmes and activities of benefit to all.
For more information, click here
For more stories on the Hunt Museum, click here