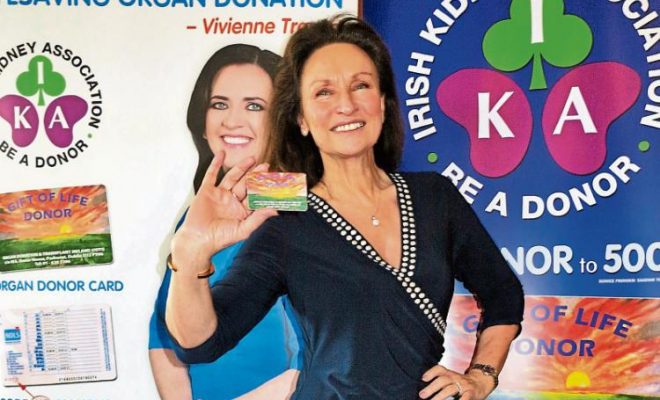 Beauty
Limerick style queen Celia Holman Lee speaks from heart on organ donors
By
|
ORGAN DONOR AWARENESS WEEK 2017 TAKES PLACE IN APRIL
With hand on heart, style queen Celia Holman Lee spoke of her delight at officially launching Organ Donor Awareness Week 2017.
The annual life-saving awareness campaign which is organised by the Irish Kidney Association will take place from April 1 to April 8.
There will be a number of organ donor awareness events taking place in Limerick to mark Organ Donor Awareness Week. This Wednesday, Doon Secondary School hosted an information event and on April 5 the University of Limerick will host an organ donor awareness event.
"I'm very honoured to launch Organ Donor Awareness Week on behalf of the Limerick branch of the Irish Kidney Association," said Celia of the launch which took place at the South Court Hotel.
"It is very important that we draw awareness to this week to encourage people to carry organ donor cards," she added.
Publican and international haulier Jimmy O'Neill from Hospital will hold a fundraiser in aid of the Irish Kidney Association which will take place at the end of Organ Donor Awareness Week.
The Irish Kidney Association and organ donation is a cause close to Jimmy's heart as two of his brothers, one of whom is deceased, had kidney failure.
On Sunday, April 9 truck drivers from around the country are expected to join in what promises to be an impressive convoy of trucks with some displaying posters promoting organ donation.
As a prelude to this event the truckers will enjoy a fundraiser night of music in O'Neill's Pub on Saturday, April 8.
As well as raising vital funds for the Irish Kidney Association, Jimmy is hoping that the event raises awareness about the importance of organ donation while honoring the memory of his deceased brother.
The key focus of Organ Donor Awareness Week is to continue to remind the Irish public to have the important family discussion about their wishes concerning deceased organ donation and support the Irish Kidney Association by buying a 'forget-me-not' flower and other merchandise, while its volunteers distribute the organ donor cards.
Organ Donor Cards can also be obtained by phoning the Irish Kidney Association LoCall 1890 543639 or Freetext the word DONOR to 50050. Visit website www.ika.ie