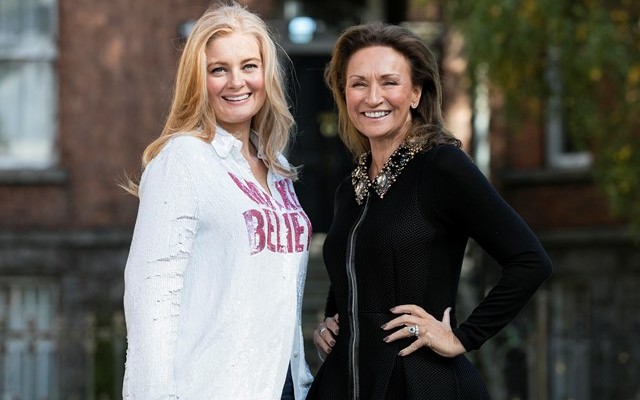 Fashion
Celia Holman Lee on RTE Player exclusive The Couch
By
|
Pictured at the launch of RTE Player exclusive The Couch, a brand new six-part series is host Yvonne Tiernan with her first guest Celia Holman Lee. Beginning Monday October 12 The Couch is available to watch only on RTÉ Player. Picture: Andres Poveda
Exclusive and available to watch only on RTÉ Player, The Couch, a brand new six-part series hosted by Yvonne Tiernan kicked off on Monday October 12.
The Couch is a fresh, new, original chat show that covers themes of interest to women from all walks of life.  Themes explored throughout the series include Motherhood, Love, Beauty, Mums & Dads, Relationships and Wisdom.  Guests include inspirational women such as Sharon Horgan, Maia Dunphy, Jo Malone and Celia Holman Lee to name but a few. 
Rather than a single interview, The Couch interweaves conversations with its guests under different themes of interest such as motherhood, beauty, love and work, for example.  With seven 15 minute webisodes available for viewing, the unique format makes for interesting viewing with a fresh approach, perfect for lunchtime or commuter viewing on a mobile device
Aoife Byrne, Director of Content & Products, RTÉ Digital said, "We are really excited to bring RTÉ's first ever online chat show to our audiences on RTÉ Player. The Couch is a fresh and original take on a traditional chat format, centered around themes, rather than single interviews, all beautifully packaged into snackable webisodes. RTE Player wants to be a place where they can experiment with new formats and new ways of storytelling, designed specifically for our audiences watching online and on mobile. The Couch fits this bill perfectly.
Exclusive to RTÉ Player, 'The Couch' began on October 12 and is available on RTÉ Player or through the RTÉ Player app available for free download for iOS and Android devices. Following the launch of the first episode on Monday 12 October, a new programme will be made available on demand each Monday for the following five weeks as part of 'The Couch' series collection. 
Watch the first episode of RTE Player Exclusive The Couch here.
Follow RTE Player on Twitter and Facebook here and here.