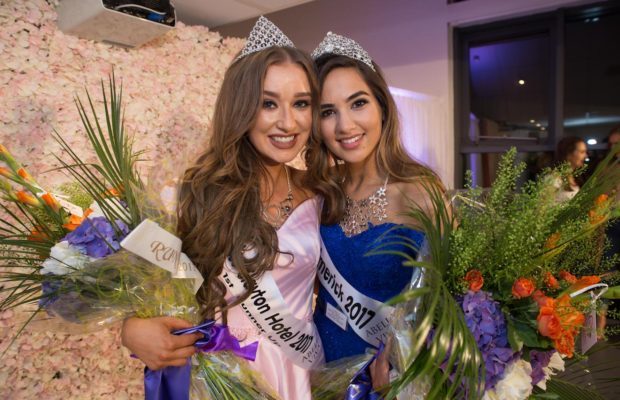 Fashion
Tears of joy from Miss Limerick 2017 winner Racha Menad
By
|
Pictured are Chloe Walsh, Miss Clayton Hotel 2017 and Racha Mennad, Miss Limerick 2017 winner. Picture: Cian Reinhardt/ilovelimerick
Tears of Joy from Miss Limerick 2017 winner Racha Menad
Miss Limerick 2017 winner was announced as 20-year-old Racha Menad at yesterday's spectacular show which took place at the Clayton Hotel Limerick.
Originally from Tullamore Offaly, with roots from Algeria, Racha moved to Limerick for her studies two years ago and has been here ever since.
Racha is the midst of her studies at the University of Limerick studying HR and French and her hopes after winning Miss Limerick 2017 is to improve her confidence and also raise awareness on the very prevalent refugee crisis facing our society.
"I am so happy!" Racha gushed after being crowned Miss Limerick 2017.
"I didn't enter ever thinking I'd win, so to win I'm actually gobsmacked! Thank you to everyone, my friends, my sponsors Debs Room for making this possible for me and I can't wait to see what the year brings." She added.
Another worthy title on the night was Miss Clayton runner-up, which 19-year-old Chloe Walsh from Ballyneety Limerick, brought home. Chloe is currently studying primary teaching at Mary Immaculate College, and working part time in Brown Thomas, Menswear.
She also expressed her excitement and happiness on winning the title saying: "I'm so happy, beyond happy and congratulations to Racha, she's an absolute beauty inside and out! And fingers crossed for the semi-finals."
The event was organised by the Holman Lee Agency and sponsored by Go Gym Limerick and Abella Viva.
The event itself, as well as the competing girls, was a remarkable sight and Asta Lee, who co-runs the Holman Lee Agency with Cecile Lee Coveney, said a lot of work was put into organising this year's Miss Limerick as there is every year.
"We started a few months back with publicity and put feeders out. We had a massive social media campaign this year and print media.
A lot of work goes in before the actual event to get the girls interested, and we need them every week to photograph them for the local paper and social media to get as much publicity for the girls and make them feel special."
Cecile Lee Coveney talks about how Miss Limerick isn't just a beauty pageant but a public platform and an opportunity for the winners to grow and raise awareness on issues that are close to their hearts.
"It's mostly about giving yourself the opportunity to try something new to gain experience and gain an opportunity where nothing else really compares," She said.
Both Racha and Chloe are set to represent Limerick in the upcoming national competition, Miss Ireland.
Too keep up with the Miss Limerick 2017 winner click here
For more of our stories on Miss Limerick click here
If you would like to contact the Holman Lee Agency about Miss Limerick 2018 click here