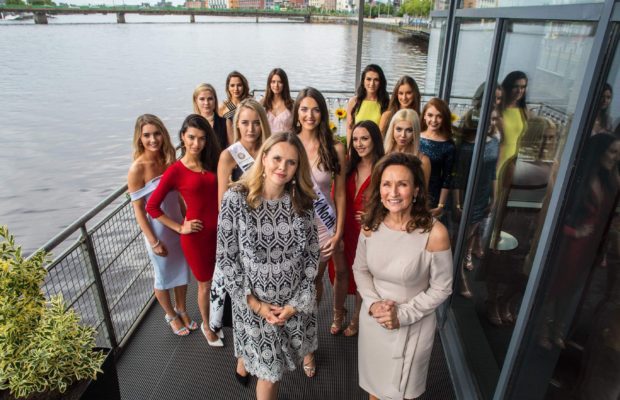 Uncategorized
Miss Limerick 2017 Seeks Limerick's Loveliest Ladies
By
|
Pictured at the Miss Limerick 2017 launch at the Clayton Hotel. Photo: Cian Reinhardt/ilovelimerick
Miss Limerick 2017 Seeks Limerick's Loveliest Ladies
The launch of the Miss Limerick 2017 took place in the Clayton Hotel on June 8. Young women from across Limerick made their way to the Clayton hotel in the hope to represent Limerick city and county on the national, and maybe even international, stage. The Miss Limerick 2017 event is one of the most hotly anticipated dates on this year's social calendar.
Celia Holman Lee, model agent and organiser of the pageant, spoke about how impressed she was with the turnout. She said ""I was blown away by the beautiful style and the personalities of all the contestants. I was also in awe of the way they coordinated their looks and the individuality of their styles"
Celia Holman Lee went on to speak about the 2016 Miss Limerick, Aoife McNamara of Corbally. Celia described her as "a wonderful representative for Limerick".
Speaking about the Miss Limerick 2017 pageant, Celia added, "This is a great opportunity for a young woman to do something different to develop their confidence and broaden their social circle. I am always amazed by how much the girls grow from the experience"
She continued "As well as being a great opportunity to develop your social skills, the Miss Limerick journey is also a great chance for young ladies to dress up to the nines"
The lady named Miss Limerick 2017 will go on to represent Limerick City and County in the Miss Ireland competition which will take place later this year.
Well done to all the beautiful ladies present at the Miss Limerick 2017 launch in the Clayton Hotel!
Celia gushed over these gorgeous ladies saying, "The girls all looked stunning with their long flowing curls, inspired by the beautiful Ariana Grande as well as their fluttery Kardashian lashes!"
Anyone interested in taking part in Miss Limerick can email reception@holmanlee.ie
For more on the Holman Lee Agency click here
For more on the Miss Limerick 2017 competition click here
For similar Miss Limerick stories click here